Dynamic Pro 4000 Light professional hairdryer
2000 W

Lightweight creativity

The DYNAMIC PRO 4000 LIGHT hairdryer achieves professional results with silence and a super low weight thanks to the high performing though lightweight Delta-Drive motor.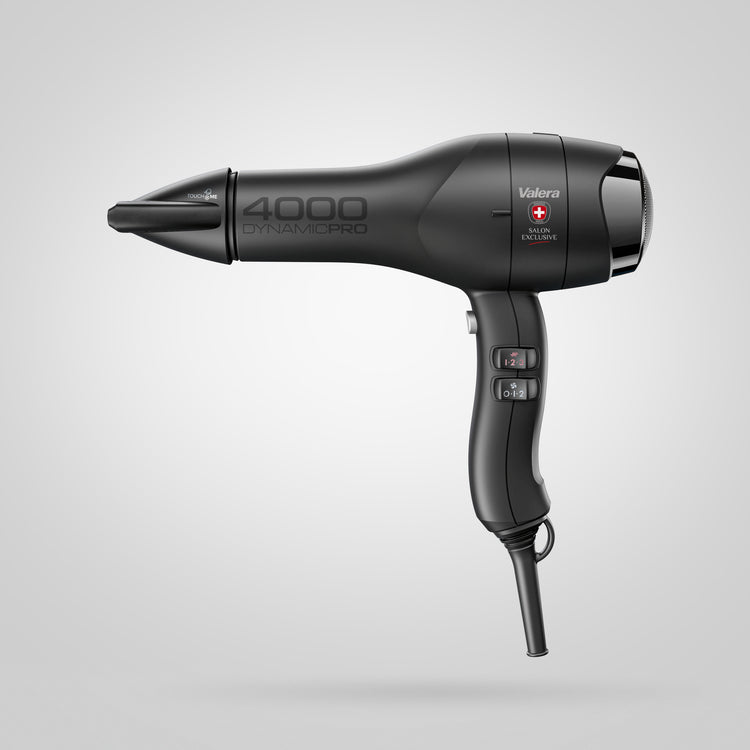 DETAILS

Touch Me

Cool nozzle for safe handling

Rotocord

Swivel element against cable tangles

Cool air button

Helps to fix the styling

Settings

Six combinations of temperature and fan

Filter

Removable for easy cleaning
PRODUCT DESCRIPTION

With the DYNAMIC PRO, Valera has designed a hairdryer that gives hairstylists all the creative freedom they desire whilst maintaining optimal ergonomics. With its special design − extra-long and particularly narrow − it ensures a technically ideal distance from the hair, allowing a broader and focused field of view at the same time. The hairdryer has an ergonomic handle but for special techniques it can be held just as comfortably on the cool barrel or on the body. The long barrel supports the hair when used in combination with a round brush, allowing for easier blow-drying. The professional and lightweight Delta-Drive motor provides the DYNAMIC PRO LIGHT 4000 with excellent drying capacity combined with smooth running and low weight.
FEATURES

Delta-Drive Select motor
Ion generator
SuperFlex cable 3 m with ROTOCORD
6 air flow/temperature settings
Cool air button
Removable metallic filter
2 professional concentrator nozzles (TOUCH ME cool nozzle 7,5 cm, standard nozzle 6 cm)
TECHNICAL DATA

2000 W
Drying 35 % faster*
Air pressure: 3340 Pa
Air flow: 65 m3/h
Ultra-silent: 64 dB(A)
Weight without cable 470 g

*Compared with hairdryers with DC motor, 20% faster than hairdryers with AC motor.
USER GUIDE
PRODUCT SHEET
TECHNOLOGY
Delta-Drive motor

Sanify System

Smart Airflow

Backstop System
The heart of the Dynamic Pro 4000 Light professional hairdryer is its
particularly powerful and lightweight Delta-Drive motor. It provides an extra powerful airflow, which Valera has additionally optimised with its exclusive Smart Airflow Technology.
Valera's SANIFY system has an antibacterial, air-improving effect for a safer, healthier ambience and a new sense of well-being in the salon.
Dynamic Pro dries faster than comparable hairdryers. The excellent drying performance is based on Valera's Smart Airflow Technology, which optimises the path of the airflow through the hairdryer.
Valera's exclusive Backstop System inside the hairdryer prevents hair from getting caught into the ventilation components and blocking the motor. A protected motor increases the durability and performance of the hairdryer.