SQ Slim 100 slim professional hair straightener
Highest precision for fine and short hair

SQ Slim 100 is an extra slim professional hair straightener. With constant temperature and ideal for the most precise styling of short hair, tight curls and fringes.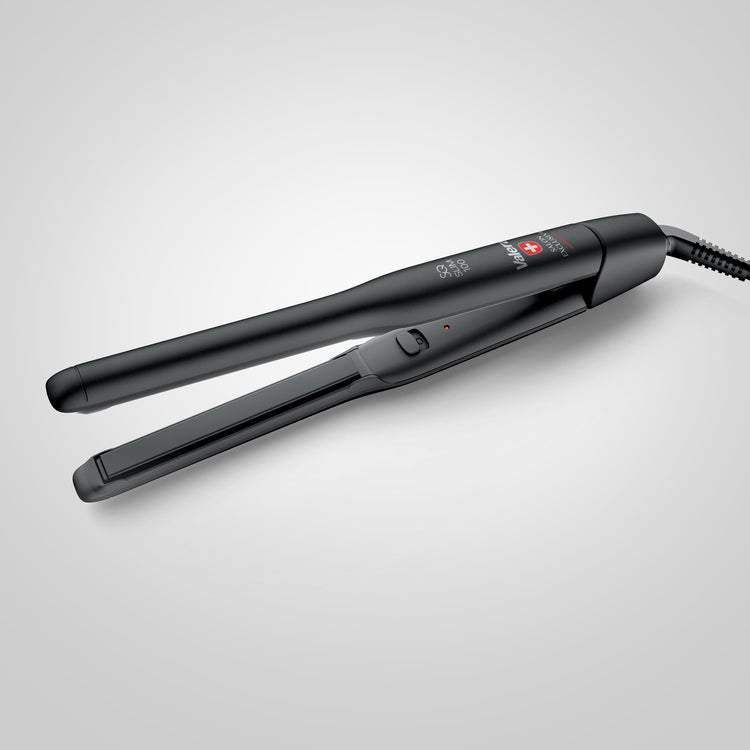 DETAILS

Cool-Touch tips

For comfortable and safe handling

Rounded design

Hot hair-coiling case zone for perfectly shaped curls

On/Off

Constant temperature 230°C

Thermocap

Protection cap for safe storage
PRODUCT DESCRIPTION

With the SQ Slim 100 mini straightener, the most precise styling of short hair, tight curls and fringes gets as easy as playing. Its constant temperature and the rounded heated body guarantee perfect styling results, while the cool tips ensure safe handling. It maintains the operating temperature at 230°C whether it is straightened or curled. Styling with SQ Slim 100 is quick and gentle on the hair. The floating plate system provides full and uniform contact and the 5x ceramic coating with tourmaline promises an easier and healthier way to straighten. Your safety and comfort are also taken care of with ultra-fast heat-up and 3-metre long temperature-stable rubber-insulated swivel cord.
FEATURES

Adaptive Heat Control for perfect temperature balance
On/Off 230°C
Slim, rounded and compact design with hot hair-coiling case zone for perfectly shaped tight curls
Heat-insulated cool-touch tips for comfortable and safe handling
5 x ceramic coating with tourmaline for superior and healthier straightening
Floating plates system for a perfect and uniform contact with the hair
Ultra-fast heat up
Thermocap: thermo-insulating protection cap
TECHNICAL DATA

Swivel cord 3 m (10 ft.)
Plate size 11 x 100 mm
USER GUIDE
PRODUCT SHEET
TECHNOLOGY
Adaptive Heat Control

Ceramic & Tourmaline
The auto-regulative system assures a constant heat adjustment during the use of the straightener. This way, the working temperature of 230°C is maintained, no matter how thick the hair is or whether you are straightening or curling hair. With a stable temperature of the plates and the hot hair-coiling case zone, you'll be sure to obtain equal and perfect styling results.
Featuring an extra thick, five-layer ceramic coating, the plates glide effortlessly on the hair. The heat is distributed evenly, and you get perfect results in just one stroke, with much shorter heat exposure. On top of that, the tourmaline content in the ceramic coating releases naturally negative ions, enhancing the hairs natural moisture.