369 Light Plus professional hairdryer
2100 W

The lightest of our AC motor hairdryers

The 369 LIGHT PLUS hairdryer, perfectly balanced in compact size and with a new lightweight AC motor, allows relaxed creativity. The excellent drying performance goes with a quiet run thanks to an optimized airflow.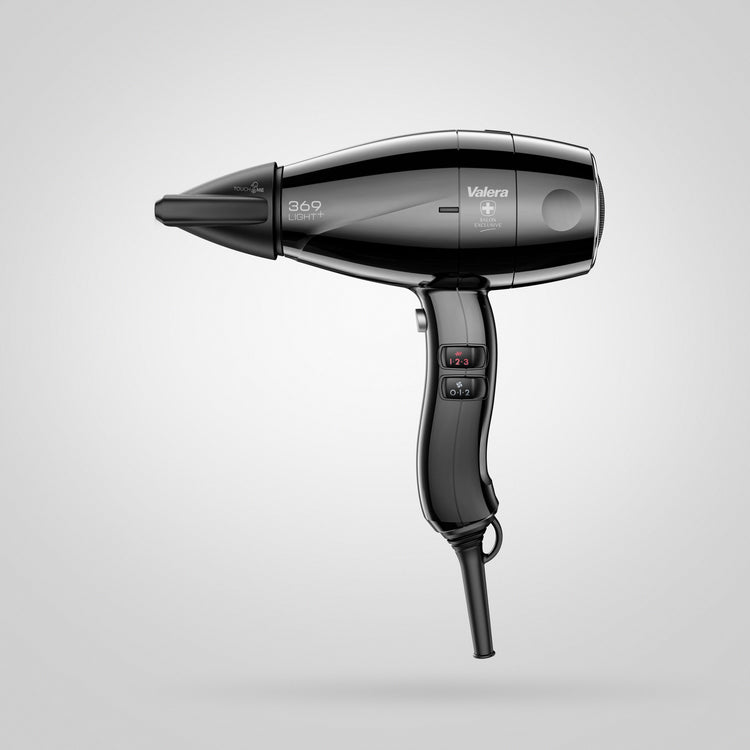 DETAILS

Touch Me

Cool nozzle for safe handling

Rotocord

Swivel element against cable tangles

Cold air button

Helps to fix the styling

Settings

Six combinations of temperature and fan

Filter

Removable for easy cleaning
PRODUCT DESCRIPTION

The professional 369 Light Plus hairdryer provides hairdressers with the proven performance of an AC-powered hairdryer in a lightweight and practical format. It produces a high airflow and air pressure with a moderate weight of only 490 grams (without cable). The perfectly balanced and ergonomically shaped design in a compact size allows a comfortable work and unlimited creativity. The integrated Smart Airflow technology delivers a powerful yet quiet airflow (only 65 dB(A)). Valera's SANIFY system ensures a safer and healthier environment in the salon. The Backstop System prevents hair from getting caught in the fan, protecting the motor from breakdowns. 369 Light Plus is the hairdryer that hairstylists are looking for: reliable and professional, lightweight and ergonomic. 
FEATURES

AC-PERFORMANCE Light Select motor
Ion generator
SuperFlex cable 3 m with ROTOCORD
6 air flow/temperature settings
Cold air button INSTANT COLD
Removable metallic filter
2 professional concentrator nozzles (TOUCH ME cool nozzle 7,5 cm, standard nozzle 6 cm)
TECHNICAL DATA

2100 W
Ultra-silent: 65 dB(A)
Weight without cable 490 g
USER GUIDE
PRODUCT SHEET
TECHNOLOGY
AC Motor Light

Sanify System

Smart Airflow

Backstop System
The smaller size of the classic AC (Alternated Current) motor has been developed to safeguard the comfort while maintaining performance and drying power of the hairdryer. It produces a high air flow and pressure, having a moderate weight.
Valera's SANIFY system has an antibacterial, air-improving effect for a safer, healthier ambience and a new sense of well-being in the salon.
369 Light Plus dries faster than comparable hairdryers. The excellent drying performance is based on Valera's Smart Airflow Technology, which optimises the path of the airflow through the hairdryer.
Valera's exclusive Backstop System inside the hairdryer prevents hair from getting caught into the ventilation components and blocking the motor. A protected motor increases the durability and performance of the hairdryer.