Swiss'X Thermofit professional hair straightener
The perfect sleek or curly look

Professional straightener with Adaptive Heat Control for hair straightening and curling. All in one, hot inside and all around: Swiss'X Thermofit is the right choice for experimenting on straight and curly styles with ease.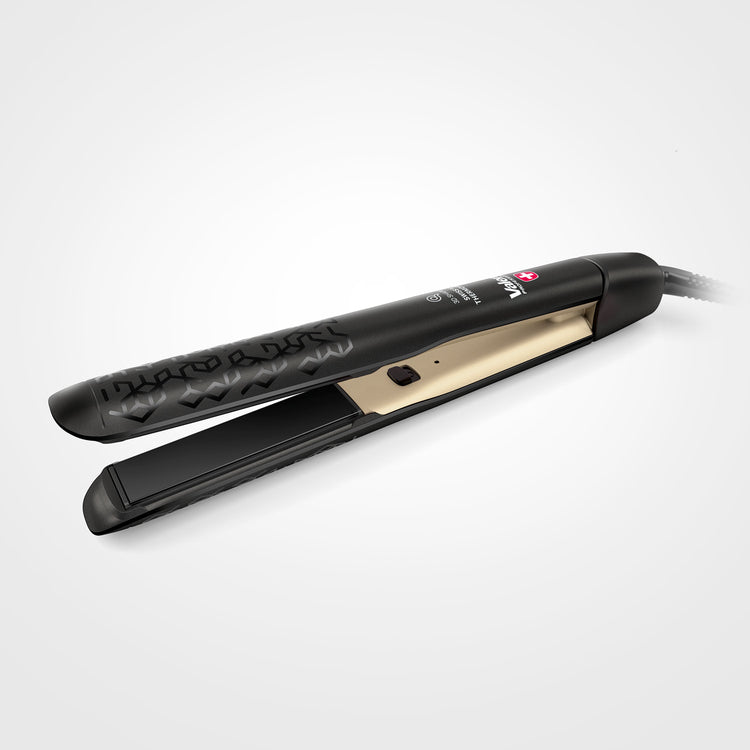 DETAILS

Cool-Touch tips

For comfortable and safe handling

Rounded design

Hot hair-coiling case zone for perfectly shaped curls

On/Off

Constant temperature 230°C

Thermocap

Silicone protection cap for safe storage
PRODUCT DESCRIPTION

Three-dimensional variety of shapes styled with ease. Get ready to express your own unique style creating hairdos with ease and precision! A constant high temperature of the plates and the hot hair-coiling case zone, the sophisticated rounded design and the cool tips for safe handling: these are the professional features of the Swiss'X Thermofit hair straightener. It allows to straight and curl the hair to fantastic looks in one stroke, with comfort and ease.
FEATURES

Adaptive Heat Control for perfect temperature balance
On/Off 230°C
Slim, rounded and compact design with hot hair-coiling case zone for perfectly shaped curls and waves
Heat-insulated cool-touch tips for comfortable and safe handling
5 x ceramic coating with tourmaline for superior and healthier straightening
Floating plates system for a perfect and uniform contact with the hair
Ultra-fast heat up
Thermocap: thermo-insulating silicone protection cap
Swivel cord 3 m (10 ft.)
TECHNICAL DATA

Plate size 24 x 90 mm
Diameter 36 mm
Universal voltage 100V-240V
USER GUIDE
PRODUCT SHEET
TECHNOLOGY
Adaptive Heat Control

Ceramic & Tourmaline
The auto-regulative system assures a constant heat adjustment during the use of the straightener. This way, the working temperature of 230°C is maintained, no matter how thick the hair is or whether you are straightening or curling hair. With a stable temperature of the plates and the hot hair-coiling case zone, you'll be sure to obtain equal and perfect styling results.
Featuring an extra thick, five-layer ceramic coating, the plates glide effortlessly on the hair. The heat is distributed evenly, and you get perfect results in just one stroke, with much shorter heat exposure. On top of that, the tourmaline content in the ceramic coating releases naturally negative ions, enhancing the hairs natural moisture.