Swiss Silent Jet 8700 professional hairdryer
2400 W

Highest power, low noise

The large professional hairdryer for great performance. Its long-life AC-Performance motor delivers excellent power, whereas Valera's Smart Airflow Technology grants a minimum noise at the same time.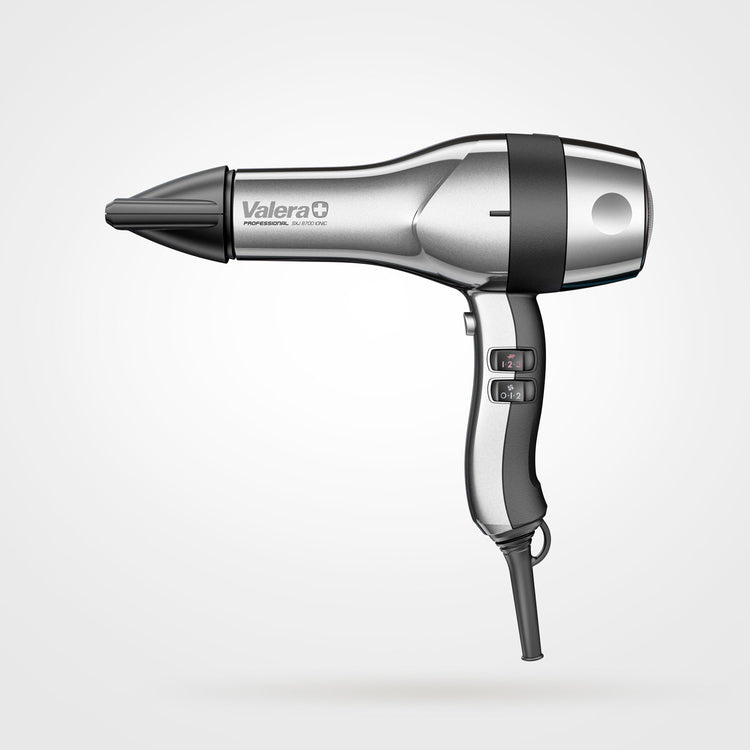 DETAILS

Touch Me

Cool nozzle for safe handling

Rotocord

Swivel element against cable tangles

Curl diffuser

For an evenly gentle airflow

Cold air button

Helps to fix the styling

Settings

Six combinations of temperature and fan

Filter

Removable for easy cleaning
PRODUCT DESCRIPTION

The Swiss Silent Jet 8700 with its long-lasting AC-Performance professional motor convinces with quiet, powerful drying. Its elongated design allows it to be held in different positions: classically on the ergonomic handle, on the cool blowing tube or on the motor body. Swiss Silent Jet 8700 offers professional, individual hair styling.
FEATURES

AC-PERFORMANCE motor
Ion generator
SuperFlex cable 3 m with ROTOCORD
6 air flow/temperature settings
COLD air button
Removable metallic filter
2 professional concentrator nozzles (TOUCH ME cool nozzle 7,5 cm, standard nozzle 6 cm)
Curl diffuser
TECHNICAL DATA

2400 W
Drying 35 % faster*
Air pressure: 3200 Pa
Air flow: 81 m3/h
Ultra-silent: 66 dB(A)
Weight without cable 580 g

*Compared with hairdryers with DC motor, 20% faster than hairdryers with AC motor.
USER GUIDE
PRODUCT SHEET
TECHNOLOGY
AC Motor

Sanify System

Smart Airflow

Backstop System
The heart of the Swiss Silent Jet professional hairdryer is its powerful, reliable AC Performance motor. With a service life of up to 2000 hours, AC motors are the classics in professional hairdryers. They generate a powerful airflow, which Valera has additionally optimised with its exclusive Smart Airflow Technology.
Valera's SANIFY system has an antibacterial, air-improving effect for a safer, healthier ambience and a new sense of well-being when styling your hair.
Swiss Silent Jet dries your hair faster than comparable hairdryers. The excellent drying performance is based on Valera's Smart Airflow Technology, which optimises the path of the airflow through the hairdryer.
Valera's exclusive Backstop System inside the hairdryer prevents hair from getting caught into the ventilation components and blocking the motor. A protected motor means a long life for your hairdryer.