Silhouette professional hair crimper
Large wave iron for beautiful texture

Effective, fast and gentle on the hair: extra wide crimper with six waves and spring-loaded plates for even zigzag waves and volume.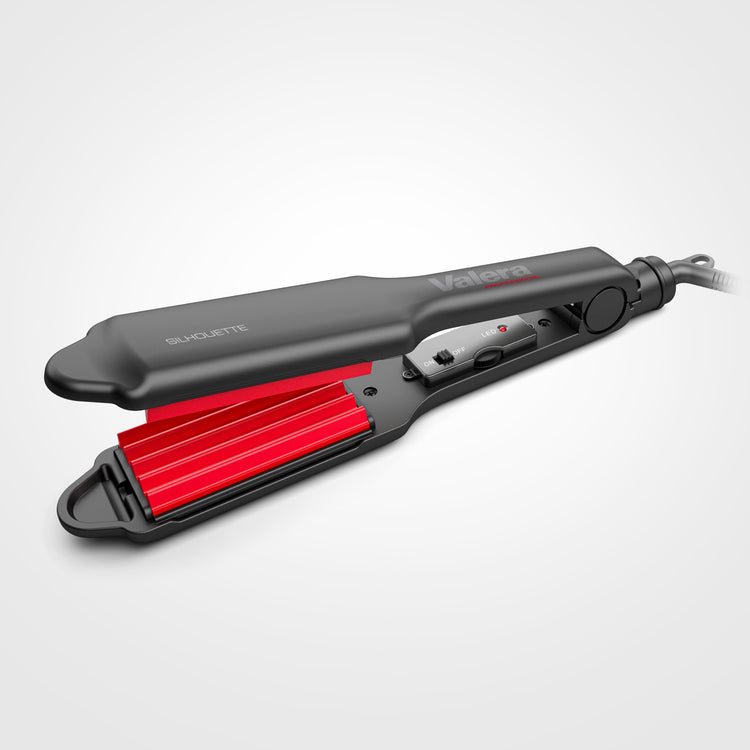 DETAILS

Cool-Touch tips

For comfortable and safe handling

Design

6 waves with a distinctive profile for well-marked wave patterns

Temperature dial

Fine and continuous electronic temperature regulation up to max. 210°C
PRODUCT DESCRIPTION

Fancy to style your hair to trendy zig-zag waves? With the professional Silhouette crimping iron, waving is quick and gentle on the hair. The spring-loaded plates of Floating Plates System bring the six waves of the extra-wide crimper into perfect contact with the hair. The ceramic coating with tourmaline ensures even heat distribution. Tourmaline naturally releases negatively charged ions that care for the hair while styling and help to avoid static electricity. Valera's Silhouette crimping iron conjures up perfect waves and professional styling in no time.
FEATURES

Large professional 6-waves-plates
Ceramic/Tourmaline-coated plates
Tourmaline: natural source of negative ions for an antistatic effect
Heat-insulated cool-touch tips for comfortable and safe handling
Floating plates system for a perfect and uniform contact with the hair
Fine and continuous electronic temperature regulation
Maximum temperature 210°C
Swivel cord 3 m (10 ft.)
TECHNICAL DATA

Plate size 42 x 90 mm
Slats 4 mm high
Universal voltage 100V-240V
USER GUIDE
PRODUCT SHEET