Swiss Bébé infant hair & body dryer
500 W

Lovingly cared for

The ultra-delicate baby hairdryer. A quiet running noise and a gentle, tepid airflow are ideal for the hair and body care of babies and all users with fine hair and sensitive scalp.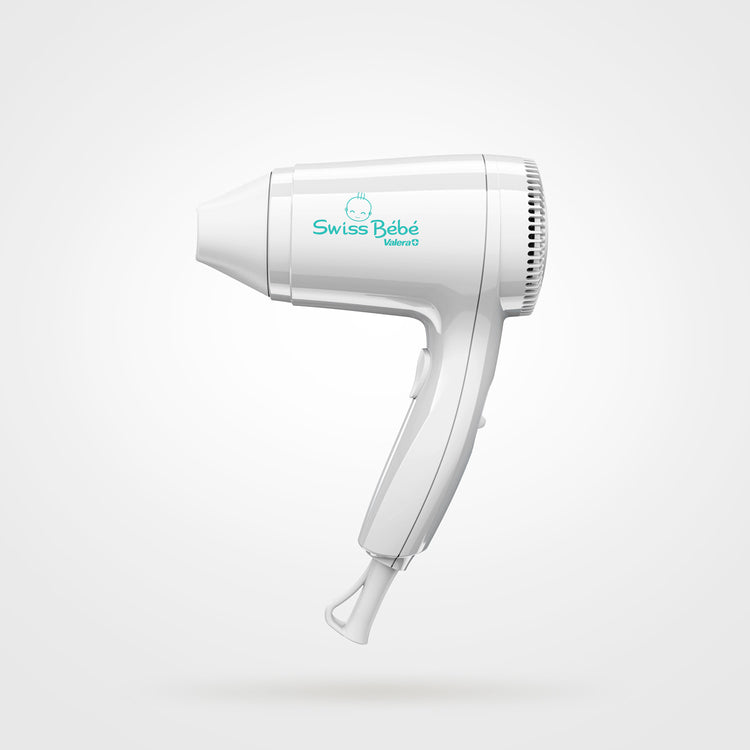 DETAILS

Nozzle

Removable for cleaning

Air inlet grille

Robust and safe

Settings

Two combinations of temperature and fan

On/Off

Push button for highest safety
PRODUCT DESCRIPTION

When it comes to baby care, safety and gentleness come first. A baby's hair is usually like soft down; and the scalp is very sensitive. A low noise level and gentle airflow are favorable. That's why Valera has developed a hairdryer dedicated to the little ones. The compact (12 cm long) and lightweight (310 g without cord) appliance sits comfortably in the hand and offers extra protection with the On/Off safety button: the hairdryer only runs when this button on the front of the handle is kept pressed. Swiss Bébé: the super gentle hair and body dryer for babies.
FEATURES

2 air flow/temperature settings
On/Off push button
1 concentrator nozzle
TECHNICAL DATA

500 W
Temperature: only 45° C
Air flow: only 10 l/s
Noise level: only 68 dB(A)
USER GUIDE
PRODUCT SHEET
GENTLE AND SAFE
Tepid temperature: only 45° C
(ca. 70° C standard hairdryer)
Weak air flow: only 10 l/s
(ca. 17 l/s standard hairdryer)
Low noise level: only 68 dB(A)
(ca. 78 dB(A) standard hairdryer)