Classic 1955 professional steel hairdryer
2100 W

Cool metal, heavy power

The CLASSIC 1955 hairdryer, thanks to its chrome-plated premium steel body and iconic design, brings vintage flair into the salon. For fans of retro design with modern features.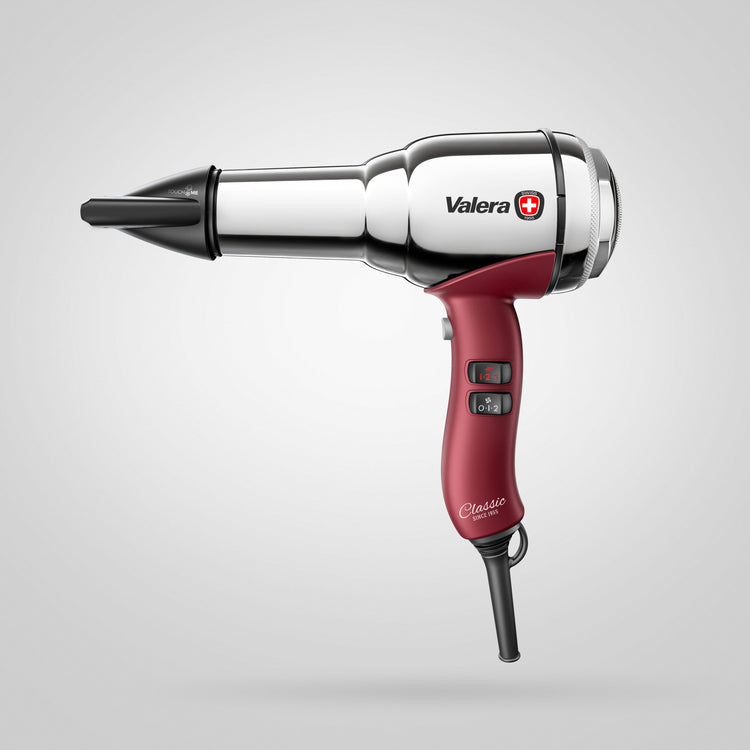 DETAILS

Touch Me

Cool nozzle for safe handling

Cold air button

Helps to fix the styling

Settings

Six combinations of temperature and fan

Filter

Removable for easy cleaning
PRODUCT DESCRIPTION

Classic 1955, the original metallic hairdryer for salons, combines the style and charm of yesteryear with the professional standards of hair stylists of today. A professional hairdryer made of chrome-plated premium steel with cool-touch guarantee, powerful and reliable thanks to its lightweight AC motor. The Backstop System prevents hair from getting caught in the fan assembly, protecting the motor from breakdowns. To top it off, Valera's Sanify System ensures a safer and healthier salon environment. The Classic 1955 in elegant retro design with an ergonomically shaped handle in burgundy colour is a stylish tool and especially popular in barbershops.
FEATURES

Metal body in chrome-plated premium steel
AC-PERFORMANCE Light Select motor
Ion generator
SuperFlex cable 3 m
6 air flow/temperature settings
Cold air button
Removable metallic filter
2 professional concentrator nozzles (TOUCH ME cool nozzle 7,5 cm, standard nozzle 6 cm)
Storage pouch
USER GUIDE
PRODUCT SHEET
TECHNOLOGY
AC Motor Light

Sanify System

Smart Airflow

Backstop System
The smaller size of the classic AC (Alternated Current) motor has been developed to safeguard the comfort while maintaining performance and drying power of the hairdryer. It produces a high air flow and pressure, having a moderate weight. 
Valera's SANIFY system has an antibacterial, air-improving effect for a safer, healthier ambience and a new sense of well-being in the salon.
Classic 1955 dries faster than comparable hairdryers. The excellent drying performance is based on Valera's Smart Airflow Technology, which optimises the path of the airflow through the hairdryer.
Valera's exclusive Backstop System inside the hairdryer prevents hair from getting caught into the ventilation components and blocking the motor. A protected motor increases the durability and performance of the hairdryer.