Swiss Nano 6001 Light professional hairdryer
1800 W

Compactness with low weight

Compact size meets great ease of use. The super light professional hairdryer with its powerful PM-Pro motor is only 17 cm long for great handling comfort.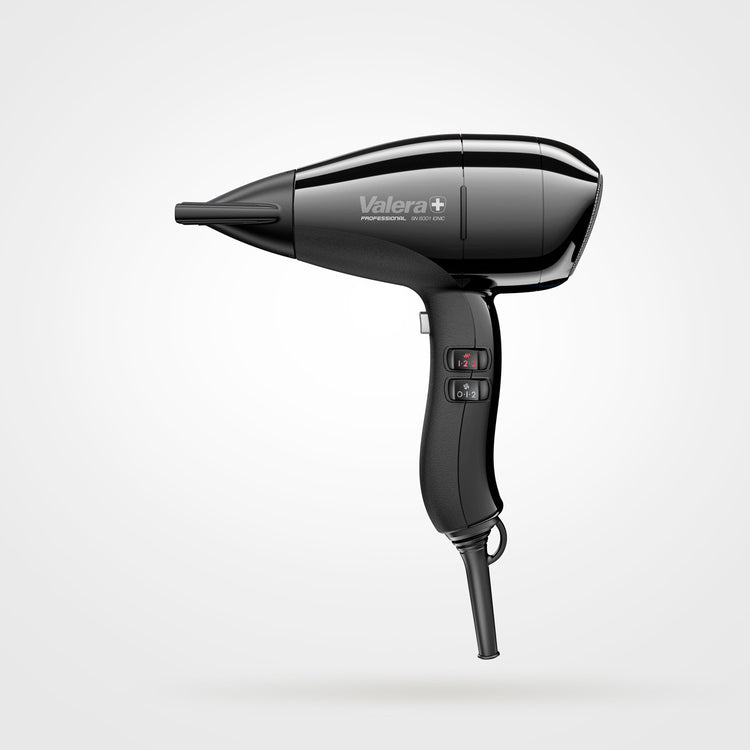 DETAILS

Cool air button

Helps to fix the styling

Settings

Six combinations of temperature and fan

Filter

Removable for easy cleaning
PRODUCT DESCRIPTION

The Swiss Nano 6001 Light combines professional drying performance with a minimum weight and practical dimensions for convenient use and space-saving storage. The hairdryer with ergonomic design fits comfortably in the hand and scores points for ease of use with easy-to-reach switches for the temperature and fan settings on the side of the handle. The styling result delights hairdressers and private users. Thanks to the ionic care effect, the hair is shiny and well-groomed after drying.
FEATURES

PM-Pro motor
Ion generator
SuperFlex cable 3 m with ROTOCORD
6 air flow/temperature settings
COOL air button
Removable metallic filter
1 ultra-slim professional concentrator nozzle 6 cm
TECHNICAL DATA

1800 W
Air pressure: 2800 Pa
Air flow: 60 m3/h
Ultra-silent: 66 dB(A)
Weight without cable 410 g
USER GUIDE
PRODUCT SHEET
TECHNOLOGY
Sanify System

Smart Airflow

Backstop System
Valera's SANIFY system has an antibacterial, air-improving effect for a safer, healthier ambience and a new sense of well-being when styling your hair.
Swiss Nano dries your hair faster than comparable hairdryers. The excellent drying performance is based on Valera's Smart Airflow Technology, which optimises the path of the airflow through the hairdryer.
Valera's exclusive Backstop System inside the hairdryer prevents hair from getting caught into the ventilation components and blocking the motor. A protected motor means a long life for your hairdryer.