Academy Pro 2300 professional hairdryer
2100 W

Compact power

The ACADEMY PRO 2300 hairdryer, with its strong classic AC motor, delivers reliable performance in a compact size being even silent thanks to an optimized airflow.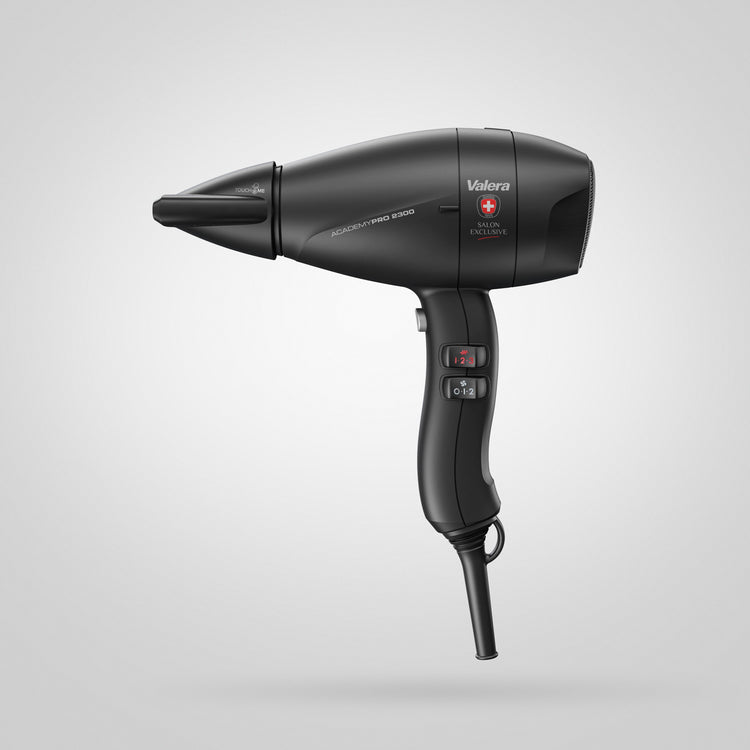 DETAILS

Touch Me

Cool nozzle for safe handling

Rotocord

Swivel element against cable tangles

Cold air button

Helps to fix the styling

Settings

Six combinations of temperature and fan

Filter

Removable for easy cleaning
PRODUCT DESCRIPTION

The Academy Pro line for hairdressers features the complete set of innovative technology by Valera Salon Exclusive. Thanks to its integrated Smart Airflow Technology, the handy hairdryers are powerful and quiet. Intelligent functions provide control, safety and maximum well-being in the salon. The Academy Pro 2300 professional hairdryer with its powerful, classic AC motor delivers reliable performance with up to 2,000 hours of motor life. An integrated SANIFY System ensures a safer and healthier environment in the salon. The Backstop System prevents hair from getting caught in the fan assembly, protecting the motor from breakdowns. The small, powerful hairdryer is ideally compact and ergonomically balanced.
FEATURES

AC-PERFORMANCE Select motor
Ion generator
SuperFlex cable 3 m with ROTOCORD
6 air flow/temperature settings
Cold air button INSTANT COLD
Removable metallic filter
2 professional concentrator nozzles (TOUCH ME cool nozzle 7,5 cm, standard nozzle 6 cm)
TECHNICAL DATA

2100 W
Air pressure: 3020 Pa
Air flow: 77 m3/h
Ultra-silent: 65 dB(A)
Weight without cable 540 g (A)
USER GUIDE
PRODUCT SHEET
TECHNOLOGY
AC Motor

Sanify System

Smart Airflow

Backstop System
The heart of the Academy Pro 2300 professional hairdryer is its powerful, reliable AC Performance motor. With a service life of up to 2000 hours, AC motors are the classics in professional hairdryers. They generate a powerful airflow, which Valera has additionally optimised with its exclusive Smart Airflow Technology.
Valera's SANIFY system has an antibacterial, air-improving effect for a safer, healthier ambience and a new sense of well-being in the salon.
Academy Pro dries faster than comparable hairdryers. The excellent drying performance is based on Valera's Smart Airflow Technology, which optimises the path of the airflow through the hairdryer.
Valera's exclusive Backstop System inside the hairdryer prevents hair from getting caught into the ventilation components and blocking the motor. A protected motor increases the durability and performance of the hairdryer.